About Rubicon Migration. A Registered Migration/ Visa Agent in Sydney
Welcome to Rubicon Migration Australia, a registered migration / visa agent in Sydney. Our aim is to provide a professional service to assist you with your migration to Australia. Whether you are planning a temporary stay in Australia or wish to live in Australia permanently, or you are sponsoring someone to come to Australia, we can help to smooth the process for you.
Rubicon Migration Australia is managed by a Registered Migration / Visa Agent located in Sydney:
Amanda J Kirkpatrick
B.L.J.S. MMIA
Migration Agents Registration Number: 0429985
Amanda holds a Bachelor of Legal and Justice Studies and has over 30 years experience as a paralegal. Amanda has been a Registered Migration / Visa Agent in Sydney since 2002 and has held professional membership with the Migration Institute of Australia since 2004.
Experience
Efficiency
Personal attention
Value for money
Located in Sydney
Fresh Ideas
A consultation at Rubicon Migration Australia will provide you with ideas for achieving your migration goals. We will present you with all visa options that may be available to you so that you can decide which is best for you. All of our clients can confirm that our initial consultation with our visa agent equips them with the knowledge they need to understand the steps they need to take. It can be difficult to navigate the Department of Home Affairs website and to be certain of which particular visa option is the most suitable in your circumstances.
Planning
Applying for a visa takes planning and our service includes providing you with a clear step by step pathway through the process. Once you have decided your best visa option we can quote you our costs for assisting you with the application. Under regulation we then sign a Service Agreement setting out the potential cost and generally protecting your interests as a client of a Registered Migration / Visa Agent. We can then begin planning the preparation of your visa application.  If you already hold an Australian visa it is recommended that you seek advice about your next visa several months prior to your visa expiring.
Team Work
A visa application requires a lot of information and attached documents. This is where the value of working with Rubicon Migration Australia becomes abundantly clear. We have an efficient system which helps you to provide us with information we will need to complete all required forms – some of which request repeat information. We also work closely with you in preparing the documents for attachment – including assisting you with any statements that are required and drafting business documents.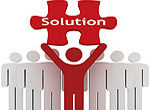 Effective Solutions
Whatever your migration dream or dilemma we can point you in the right direction and help find a solution. We ask the right questions to uncover the key in your circumstances that will lead you through to your goals. We provide you with full and frank advice about the prospects of your success and will not lead you into false expectations and unnecessary time and cost.